WordPress Website Design & Development Services
Need a WordPress website to drive leads and sales? For 5+ years we've been a WordPress website design company that offers the best in WordPress design and development services. Our in-house team builds professional websites that increase leads by 100%+.
Custom designed & developed WordPress websites
Responsive mobile-optimized layouts
Easy-to-manage WordPress CMS
Team of in-house WordPress developers

Custom WordPress Web Design
As website design consultants, we understand that every business and every industry are unique. That is why we take time to get to know your business' digital goals. Every WordPress website development project enrolls a full team of in-house developers, WordPress designers, and code reviewers to build your WordPress site fast and with a personal touch.
Collaboration Forward
Our Day 0 policy ensures you have access to the full scope of the project before we move on. As a top WordPress web design company, we use powerful, web-based project management and design collaboration tools. You'll have access to everything that we worked on from design files to code. A real-time review of the design will give you a transparent understanding of the work our WordPress web designers have done. You will keep peace of mind and be sure that your custom design will exceed your expectations. We will provide the best services to help you achieve your digital marketing goals.
Easy Updates
WordPress is our content management system (CMS) of choice for website development. Used by over 25 million people, WordPress has evolved from a blogging system to a full CMS with hundreds of thousands of plugins, widgets, and themes. HITECH BRANDING is an expert WordPress website design company that works with you to break through all the noise and tech lingo surrounding WordPress. We develop powerful, functional websites that people love and that are easy to work with. No more complicated website updates, only easy plug and play workflows that keep your information up-to-date and customers coming back again and again.

Better Search Results
As a renowned WordPress web development company, we include SEO as an integral part of every WordPress web design project. Our advanced SEO techniques move your website up the ladder in search rankings. Using comprehensive research, SEO audits, keyword selection, innovative site mapping, and page optimization, we work to get your website at the top of every search engine to draw in users that convert to leads, sales, and revenue. You can measure your progress using Google analytics or we can provide all the data for you.
Mobile / Tablet Responsive Design
63% of all Indian / US web traffic comes from mobile devices. Every HITECH BRANDING WordPress site design and development project comes with a mobile responsive plan, so your site quickly and powerfully reacts to any kind of device, setting up the best first impression on Android, iPhones, iPads, workstations, and everything in-between. This plan allows us to save you development time and reduce ongoing maintenance costs.
WordPress Web Design Packages
As a full services WordPress Website Design company, we make sure your business gets everything it needs. From WordPress design and development to website maintenance, web hosting, digital strategies, contact forms, and more. Our team of WordPress web designers will make sure to devise the WordPress web design package your business needs.
Pricing
We Provide the Best Web
Services Plans for Your Business.
Static Website
Mobile / Tablet Responsive

Social Media Integration

Contact Form with Google map

One Page SEO Optimization

XML Sitemap

Page Speed Optimization

2 Rounds of Revisions

5 Page Max

INR 1500 per additional website page after 5 pages.

Powerful hosting Free for First Year

Upto 3 Email accounts
Dynamic Website
Absolutely Unique Design with responsive

Custom Mock-up All the pages

Features: Google Maps, Contact Form, Social Sharing, Photo Sourcing, XML SiteMap, Google Analytic, OnPage SEO Optimization, Page Speed Optimization

3 Round of Revisions

8 Page Max

INR 1500 per additional website page after 15 pages

Blog Post Integration

1 Year Free Annual Maintenance

24/7 Support

Powerfull Hosting Free for First Year

Upto 10 Email Addresses
Ecommerce Website
All features included in Static and Dynamic plan and more below

Powerful yet easy-to-use eCommerce platform

Sell just about anything including products, subscriptions, bookings and more

Multiple payment gateways such as PayPal, credit card and Stripe, G-Pay, Bank transfer

Various shipping options to enhance the shipment

Automatic PDF invoices customised for your branding

Shipping tracking

Marketing add-ons such as follow-up emails and discount codes for signups

24/7 Support

Powerfull Hosting Free for First year

Upto 15 Email address

More Features available on Demand
Still Need More Info? Chat With Us
F.A.Q.
Frequently Asked Questions
How long does it usually take to build a WordPress site?
There are many factors that come to play when developing a WordPress website that can affect the estimated time of completion. However, most projects are finished in a range of 1 to 6 months.
What is the cost of developing a WordPress Website?
The final cost of developing a WordPress website depends on a number of factors, services and the type of WordPress site that your company needs. 
Get a free consultation.
What process do you follow to build a WordPress site?
1. We gather all the information from the client.
We discuss the scope and set milestones. After collecting information, we work on gaining an understanding of the organization, products, and services in relation to the target audience and goals. Then we use the gathered information to define the specific design and functionality that your website needs. We provide an estimate, and we start the work based on the milestones we have agreed on together. The progress can be monitored by a client via our Project Management App.
2. We work on the design.
We generate excitement about the brand with eye-catching WordPress web designs and insightful data points. We pinpoint what readers want, making sure we hit the right topic to create a more significant impact on site traffic. We work closely with our clients to develop prototypes that fully illustrate the proposed work. Mockups are continually refined to meet all the goals we set out to achieve.
We will proceed with the style guide — a "one-stop place for the entire team — from product owners and producers to designers and developers — to reference when discussing site changes and iterations."
3. We work on the WordPress website development stage.
By combining a solid back-end foundation with a completely customized front-end, we can handle all of the coding and configuration required to get websites up and running. Updating your website should be a joy, not a burden. Being experts in website development allows us to create custom-tailored back-end solutions.
4. Quality checks and revisions.
Our QA team carefully tests every page to ensure that all features render correctly on every platform, resulting in the most seamless user experience. This guarantees the most positive experience for all visitors. After our QA team verifies the project, a client will be asked to review the work and let us know about any additional changes that may be required.
5. Receive all the files and launch your project.
After all of the revisions are completed we'll deliver all the files and install them on the client's server. Our primary goal is to make our clients satisfied. We will do everything to meet the expectations of the final work and deliver the promised high quality. We offer as well post monthly maintenance support.
Will my WordPress website have good online visibility?
We craft creative and optimized landing pages and websites that help you achieve your online business goals. As a top WordPress web development company, we provide high-quality web design services, so we know how to attract visitors and convert them into customers. We create a visual appeal, ensure intuitive navigation with clear calls to action. Also, we optimize the content and use the best SEO-friendly practices. Everything matters: Site Structure, Naming and Labeling Schemes, Customer-focused Navigation Practices.
We concentrate on advanced SEO practices, keywords in the content, links structure, clear CTA, share via Social Media CTA. Also, we are showcasing our works on premium platforms which boosts the number of visitors for our clients.
Our WordPress web designs use the best code practices so your website will be well ranked by Google for the organic SEO results. We provide all the needed SEO support and services to make sure our digital products have their deserved places on Google SERPs and are accessible by your target users. Our detailed SEO audits help our past and continuous clients see the development of their digital presence or prevent potential issues.
Consistently, more individuals serf the web on cell phones or tablets. And, every year more gadget sizes and shapes appear on the market. Every project comes with a responsive plan, so your site powerfully reacts to the gadget giving an optimal solution for clients on Android Phones, iPads, workstations, work areas, and everything in between. Furthermore, mobile-friendliness is one of the most critical indicators to rank websites.
Will my WordPress website be secure?
Yes. Our WordPress web design experts will make sure your site is secure.
1. We partner with the top WordPress hosting provider — WPEngine, for which security has the highest priority. Other than keeping hackers away, it has a good backup service so that an eCommerce site can be easily restored after a security breach.
2. We use https on the dev staging and set up it on the client site as well.
3. We are using ReCaptcha and protecting the admin directory to prevent the site from hacking attacks.
4. On our maintenance plans, we make sure all the plugins are updated.
How difficult will it be for me to manage my WordPress website once you create it?
We provide all-sided support for our clients to update the website themselves. We give all the training and tools to be able to make website amendments. We will create the test staging so you will be able to play around on your own.
Our WordPress web designers are ready to support and advise even after the project completion since partnering with us — is a long-term relationship.
What is the cost of redesigning an existing WordPress website?
It depends on many different factors, such as the number of pages your site has, the functionalities it will include, and the type of platform it will be placed on. Also, on the specific web design services that will be implemented. 
Get a free consultation.
Why choose Hitech Branding as your WordPress web design agency?
We know everything related to WordPress. Our team of developers are experts in Web design and development. We stay up-to-date on the latest versions, plug-in features, and maintenance items you will need to keep your website fresh, relevant, and consistently updated.
In addition to the custom website work that our team does for you, we also make web design and advanced theme development for your industry.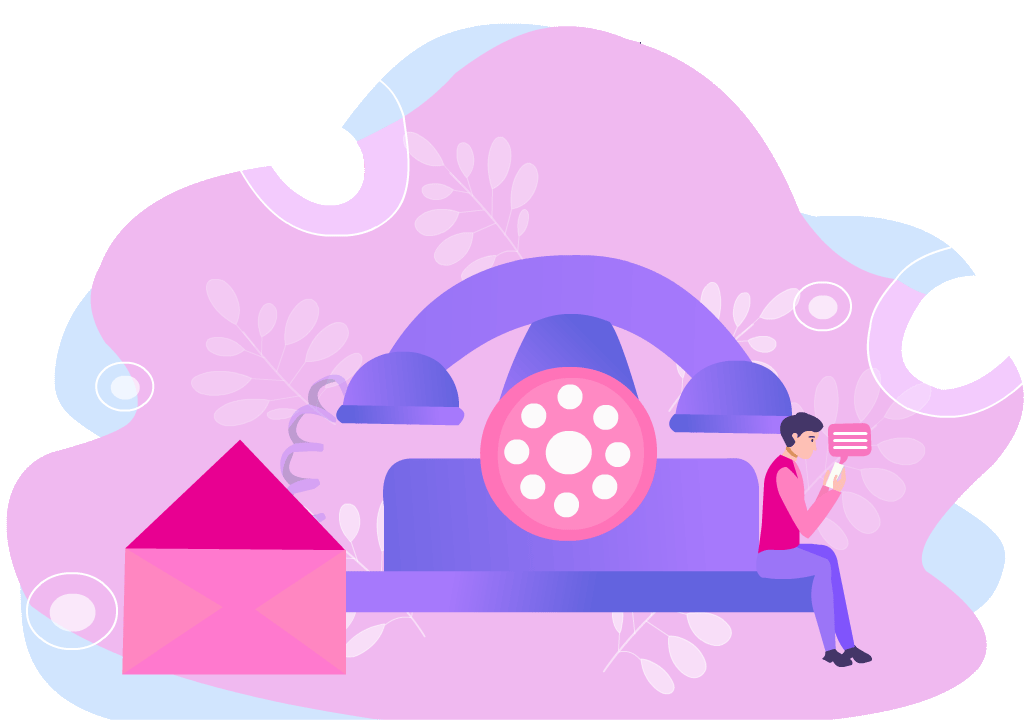 FOR ANY QUERY
Contact us for free quote and customer support!