Best Life Insurance in UAE
An Efficient risk transfer mechanism to protect your most important asset – Your income-earning ability.
Life Insurance
"There are two basic motivating forces: fear and love. When we are afraid, we pull back from life. When we are in love, we open to all that life has to offer with passion, excitement, and acceptance" – John Lennon
John Lennon may not be referring to life insurance through this quote, but sure we can find a strong connection.
Life insurance is one of the important things you will buy, driven by both fear and love.
Fear that you may not be around and the love for your family.
It is a simple answer to one of life's most difficult questions. How will my family manage financially when I die?
While it is almost impossible to replace what you are to your family, you can certainly make provisions to replace your income via adequate life insurance.
If you have people who are dependent on your income, then you need life insurance.
How does Life Insurance Work?
Life Insurance is an efficient risk transfer mechanism. When you buy it, you transfer the risk of loss of income from your shoulders to a life insurance company for a small premium.
In the event of death during the policy term, the life insurance company will pay out the cover amount to your beneficiaries.
While your family cannot afford the loss of income, the insurance company certainly can afford to pay the claim.
Because every year thousands of policy-holders pay their premiums helping the insurance company accumulate large sums of money. They sure can pay out a few claims every year from the money collected and the balance is invested.
"While nothing is more uncertain than a single life, nothing is more certain than the average duration of a thousand lives." Elizur Wright – (1804 – 1885, American mathematician, "father of life insurance" for his pioneering work on actuarial tables)
Why Buy Life Insurance in Dubai?
You may consider buying life insurance for one or more of the following reasons;
Replace Lost Income – When you die your income stops but many expenses except the life insurance premiums continue. Your life insurance policy will replace your income to support the lifestyle of your loved ones.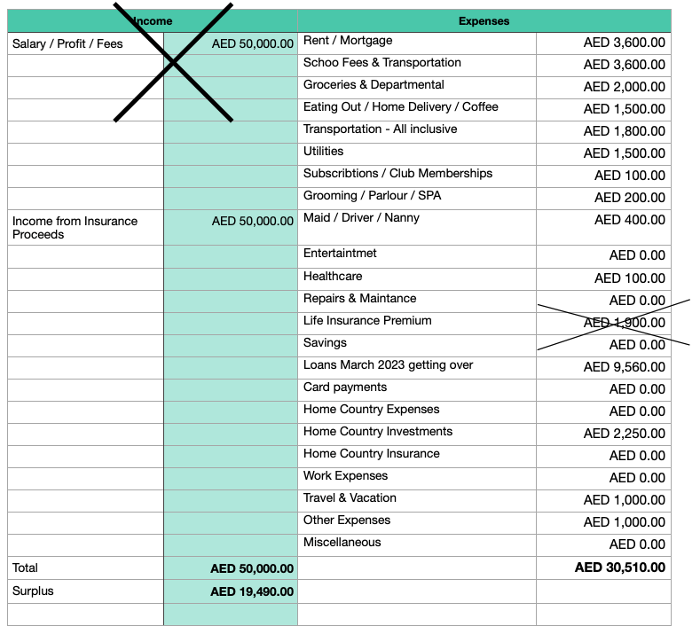 Pay Off Debt – You don't want your debt to leave a burden of debt for your family to repay, do you? Covering your debts like a mortgage, or a business loan with life insurance can protect your estate.
Fulfil Dreams and Promises – You may have many dreams and aspirations for your family like sending your children to the best university. You may also have made a few promises to them. You can fulfill those dreams and keep those promises even when you are not around with adequate life insurance.
To pay for the repatriation expenses of your family and help them start a new chapter without you
Leave a legacy – It is the most affordable way to build a large legacy.
Estate Equalization – It can help you divide the assets among your heirs without having to break them down or sell them.
Add on Living Benefits – You can buy many living benefits like critical illness cover, disability benefits, etc along with your life insurance in Dubai.
If you are from a country that levies an estate tax, Life insurance can help your heir fund the estate tax to claim your assets.
As Keyman insurance to ensure your business continuity
To establish a corpus for a charity, if you support a charitable cause.
What are the Types of Life Insurance in UAE?
Life Insurance can be generally classified into 3 broad categories;
Term Insurance
Endowment plans
The Whole of Life Insurance
There could be many sub-variants of the above categories.
Term Insurance
The most affordable form of Insurance, with a choice of riders like Critical illness Benefits, Waiver of Premium & Disability Cover. As the name suggests it covers over a specific term, usually up to age 80.
There is no cash surrender value during or at the end of the policy.
Click here to know more about Term Insurance
The whole of Life Insurance
Aims to provide life cover, critical illness cover, and other living benefits for the whole life. Also provides access to a wide range of Investment funds and Strategies to help you Grow Wealth and Protect against Loss of Income.
Comes with the flexibility to add or remove benefits, and also to increase or decrease the premiums and coverage amounts in the future.
Click here to know more about Whole of Life Insurance
Endowment Plans
Much like term insurance, endowment plans provide coverage up to a certain number of years. On maturity, the premium invested along with the bonus is paid back to the insured.
It is a fine blend of risk protection and savings leading to an assured wealth accumulation strategy.
Click here to know more about Endowment Plans
FAQ - Frequently Asked Questions
1. How much life insurance do I need?
The thumb rule on how much life cover Expats should have is at least 10 times annual income. If you have as much,  it can support your family for at least 15-20 years considering future inflation and changes in lifestyle. 
If you are looking to cover your children's higher education and other key aspects, you might want to add more cover.
I have built a calculator to determine how much life insurance you need to cover the following;
Your family's lifestyle
Your mortgage or other liabilities
Schooling expenses of your children
To provide for higher education, marriage, or other goals
To provide for your aging parents etc,…
Arrange a Free consultation to help you determine the right amount of cover you should have, along with suitable living benefits. 
2. Which is the best insurance in UAE?
The best insurance depends on various factors like your age, nationality, cover needs, health conditions, and family medical history.
 As an Independent Financial Advisor associated with all the leading insurance companies in UAE, I can provide unbiased advice on which is the best life insurance for you.
3. Can I hold more than one life insurance?
Yes, you can as long as you declare the existing insurance plans providers when you are adding one every time.
4. Where can I get the claim settlement statistics of Life Insurance companies in the UAE?
Zurich Internationa Life, MetLife & Friends Provident are the leading International Insurance providers in UAE.
They regularly publish their claim settlement statistics online. 
Click the following links to know more about this
– Zurich Middle East Claim Statistics
5. Are you independent or a tied agent of an insurance company?
I am an Independent Financial Advisor, whose aim is to provide unbiased professional advice.
6. Do you support getting claims from Insurance companies?
Yes, we support the management of your policy, submitting claims and renewals as well.
7. Is the life insurance buying process face to face or online?
We can complete the whole process online and the policy will be delivered by email. Some companies even will send the nurse to your home or office for medical tests.
Damodhar Mata - Financial Advisor in Dubai
Jump Start your journey to Financial Independence​
Whether you are taking the first step or already on the way to financial freedom, we have the right solutions for you.
They say money doesn't grow on trees. But sure, it grows when you invest your savings wisely!
Learn how to grow wealth, create passive income, and achieve your goals faster with Damodhar Mata on the My Two Fils podcast.
This show covers financial planning and investments in detail, weekly market updates in summary, and insightful interviews with people who have been there and done that.
Tune in every Saturday to this personal finance podcast and make the best of your new weekend in UAE.